додатен прибор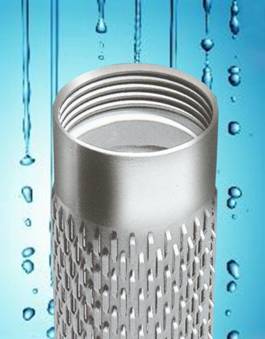 Bridge slotted screens are made with carbon steel or stainless steel plates punched, rolled and longitudinally welded. Arrangement, dimension and shape of the slots meet DIN 4922 provisions. This type of screen provides a good percentage of open area and is particularly recommended for coarse soils.
OUR RANGE
Diameters: from 114,3 to 1016 mm
Wall thicknesses: from 2 to 10 mm
Lengths: 6 mt standard, 3 mt or other lengths upon request
Connections: welding ends with or without collars, M/F threaded couplings, flanged.
Finishing: Carbon steel screens can be supplied without coating, coated with waterborne base paint, or hot galvanized.
BRIDGE SLOTTED SCREENS THEORETICAL YIELD
OUTSIDE
DIAMETER
(mm)

SLOTS WIDTH - mm

1

1,5

2

2,5

3

Open
area

Litre/
sec/mt

Open
area

Litre/
sec/mt

Open
area

Litre/
sec/mt

Open
area

Litre/
sec/mt

Open
area

Litre/
sec/mt

114,3

6,9 %

0,7

10,6 %

1,1

14,5 %

1,5

18,7 %

1,9

23,1 %

2,4

139,7

6,9 %

0,9

10,6 %

1,4

14,5 %

1,9

18,7 %

2,4

23,1 %

2,9

168,3

6,9 %

1,1

10,6 %

1,6

14,5 %

2,2

18,7 %

2,9

23,1 %

3,6

177,8

6,9 %

1,1

10,6 %

1,7

14,5 %

2,4

18,7 %

3,1

23,1 %

3,9

193,7

6,9 %

1,2

10,6 %

1,9

14,5 %

2,6

18,7 %

3,3

23,1 %

4,1

219,1

6,9 %

1,4

10,6 %

2,2

14,5 %

3,0

18,7 %

3,8

23,1 %

4,7

244,5

6,9 %

1,6

10,6 %

2,4

14,5 %

3,3

18,7 %

4,2

23,1 %

5,2

273,0

6,9 %

1,7

10,6 %

2,6

14,5 %

3,7

18,7 %

4,7

23,1 %

5,8

323,9

6,9 %

2,1

10,6 %

3,2

14,5 %

4,4

18,7 %

5,6

23,1 %

7,0

355,6

6,9 %

2,3

10,6 %

3,5

14,5 %

4,8

18,7 %

6,2

23,1 %

7,6

406,4

6,9 %

2,6

10,6 %

4,0

14,5 %

5,5

18,7 %

7,1

23,1 %

8,7

457,2

6,9 %

2,9

10,6 %

4,5

14,5 %

6,2

18,7 %

8,0

23,1 %

9,8

508,0

6,9 %

3,3

10,6 %

5,0

14,5 %

6,9

18,7 %

8,9

23,1 %

11,0

609,6

6,9 %

4,0

10,6 %

6,0

14,5 %

8,3

18,7 %

10,7

23,1 %

13,2

711,8

6,9 %

4,6

10,6 %

7,0

14,5 %

9,7

18,7 %

12,5

23,1 %

15,4

812,8

6,9 %

5,3

10,6 %

8,1

14,5 %

11,0

18,7 %

14,2

23,1 %

17,6

914,4

6,9 %

5,9

10,6 %

9,1

14,5 %

12,4

18,7 %

16,0

23,1 %

19,8

1016

6,9 %

6,5

10,6 %

10,1

14,5 %

13,8

18,7 %

17,8

23,1 %

22,0
додатен прибор